Max Muscle already had plenty of competitors in the pre-workout space, from the hybrid weight loss-supporting supplements Emerge and Emerge Zero, to the more complete and comprehensive Pre Blast. All of those products have stimulants of some sort, so the brand was lacking a stimulant-free alternative, until this week. Max Muscle has introduced Pre-Cognition, a pre-workout for fans that want to take out the stimulants.
Pre-Cognition does sound like a focus or cognition-heavy pre-workout, although Max Muscle has well and truly designed it as a well-rounded solution, essentially supporting all of the core areas of the category with the exception of energy. The supplement does have its fair share of premium branded components, including 3.2g of high-quality CarnoSyn beta-alanine, a gram of Agmass agmatine, and 300mg of AlphaSize alpha-GPC.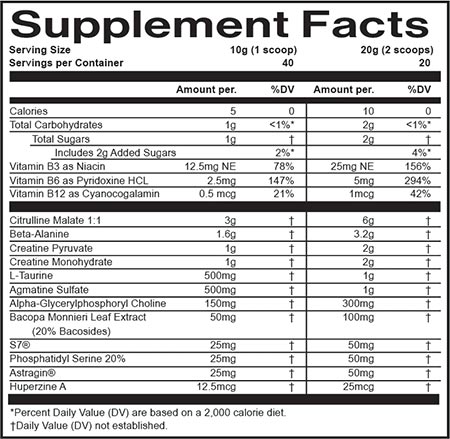 Alongside all of those ingredients mentioned, Max Muscle has packed its newest pre-workout Pre-Cognition with other ingredients to support performance and endurance in 2g each of creatine monohydrate and creatine pyruvate, and to further muscle pumps, 6g of citrulline malate and 50mg of the S7 blend. To help out on the focus side, in combination with AlphaSize, there is 50mg of phosphatidylserine, huperzine a, and 100mg of bacopa, plus 50mg of AstraGin to improve absorption and efficacy.
As mentioned, Max Muscle has designed Pre-Cognition to power all of the usual pre-workout effects, minus energy, of course, as it is a stimulant-free supplement. It actually has many ingredients in common with the brand's stimulant-backed Pre Blast, but with more to support pumps and focus and make up for the loss of caffeine. Pre-Cognition is, however, a bit more expensive at $59.99 for a tub of 20 servings versus $49.99 for a tub of 25.