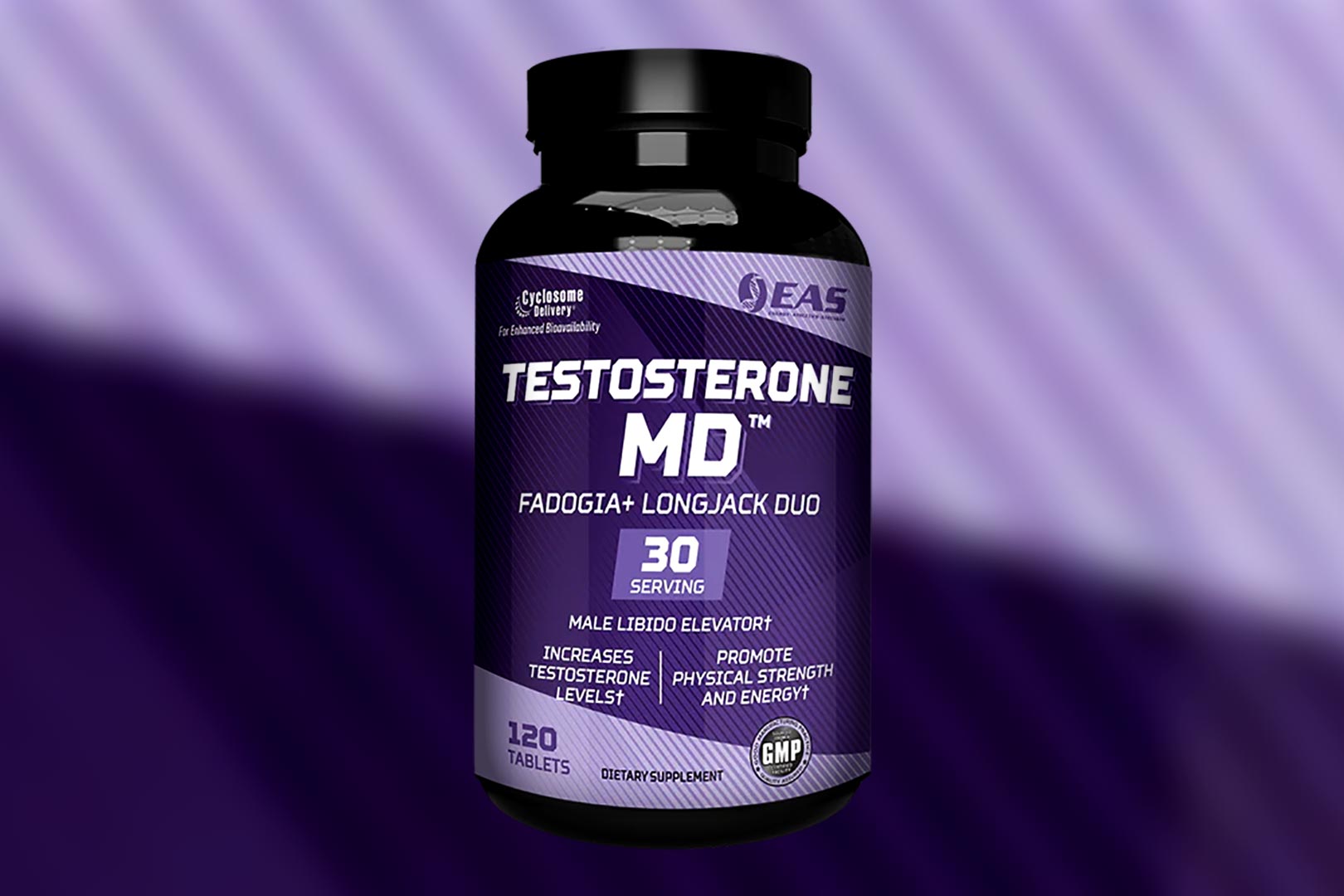 A few years after EAS announced the discontinuation of its long-running selection of sports nutrition and health supplements, it was resurrected by Hi-Tech Pharmaceuticals. The company brought back the well-known brand with its original, single-serving sachet meal replacement Myoplex, single-ingredient products, a more traditional protein powder in 100% Platinum Whey, and another original in the creatine-based Phosphagen.
Hi-Tech Pharmaceuticals and EAS have expanded their catalog once again this month with a testosterone-boosting supplement by the name of Testosterone MD. The combination of ingredients driving the test-boosting, muscle-building, and strength-supporting product may seem familiar, as its three main components are the same three you'll find in HTLT's 3 Test and Gorilla Mind's Sigma, although EAS has given it a premium touch.
Filling out each serving of EAS's Testosterone MD is fadogia agrestis, longjack, and ashwagandha, but all of them are high-quality branded variants. The fadogia agrestis is FadogiaPure dosed at a solid 1.2g, then you have 400mg of TK100 longjack, and the multi-study backed KSM-66 ashwagandha at its effective 600mg. There is also 50mg of OptiZinc in a four-tablet serving, with everything further enhanced with Cyclosome delivery to improve uptake and, in turn, provide better efficacy.
One of the first places you can grab EAS's FadogiaPure, TK100, and KSM-66-powered testosterone booster is the Hi-Tech Pharmaceuticals online store, where the supplement is on the higher side at $84.95 for a bottle of 30 servings. When Testosterone MD eventually makes its way out into retailers, you'll likely get it at a better price, as that is the case with other EAS products Hi-Tech has on its website then compared to stores.