Stim Daddy is the long-awaited stimulant-heavy pre-workout from RYSE, and it is the third entry in the Noel Deyzel Signature Series, the first being the comprehensive powerhouse Godzilla and the second the pump-enhancing Pump Daddy. Stim Daddy is making its debut this coming Friday through the brand's online store at rysesupps.com at a price presumably similar to Godzilla and Pump Daddy, between 50 to $60.
To build some anticipation and excitement for the high-anticipated launch of Stim Daddy, RYSE has dropped the facts panel for the supplement, and it is indeed more stimulant-focused than Godzilla and, of course, the stimulant-free Pump Daddy. The interesting part about Stim Daddy is it's not entirely about stimulants for intense energy and focus; it still has plenty of ingredients for other benefits.
High-stimulant formula
RYSE's Stim Daddy is a pre-workout that's similar to the likes of Godzilla but with a few components for pumps and performance taken out and a similar amount added back in to enhance energy and mental focus, creating that more potent, stimulating experience. Driving the pump and performance portion of Stim Daddy, you get a respectable 6g of pure citrulline, 6.4g of beta-alanine, the same as Godzilla, and 4g of betaine.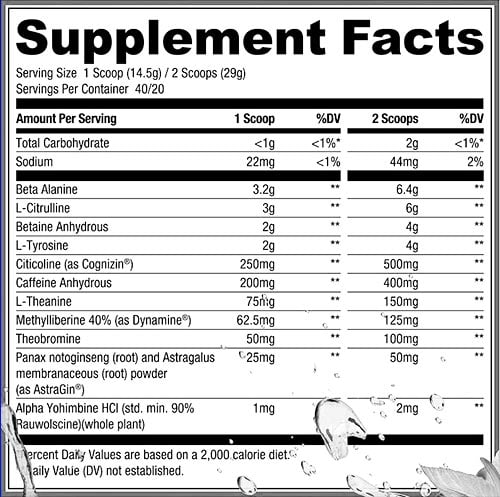 Moving to the stimulating section of Stim Daddy, RYSE has stepped things up from Godzilla, moving to 400mg of caffeine, all from caffeine anhydrous, not anhydrous and extended-release caffeine, 125mg of Dynamine, a hefty 4g of tyrosine, and 2mg of hard-hitting alpha yohimbine. There are some other energy and focus components carried over from Godzilla in theobromine at 100mg and a solid half-gram dose of premium Cognizin.
Stim Daddy versus Godzilla
Stim Daddy really falls in between a high-stimulant pre-workout and a high-stimulant alternative, as it is quite a well-rounded supplement, offering a variety of ingredients and benefits. The product is not entirely dedicated to energy and focus, where all or most of its formula cost goes into those benefits; again, it's sort of a higher-stimulant alternative to the likes of Godzilla, where you simply get less pump and performance for more energy and focus.
Where to buy Stim Daddy
RYSE is launching its hard-hitting Stim Daddy pre-workout this coming Friday through its online store with the same amount of full servings per tub as Godzilla and Pump Daddy at 20. We're not sure of the exact price of the supplement directly through rysesupps.com; however, as mentioned, we imagine it'll fall into a similar area to Godzilla, between 50 to $60.