Live Evolved has pumped out a few pre-workouts in its short and successful time in the supplement industry, including the stimulant-powered Phasic and the stackable, stimulant-free Vessel with 6g of pure citrulline and 1.5g of Nitrosigine. The brand has just introduced Catalyzer, which is its premium pre-workout offering, coming in with a higher price tag than the others and with an absolute beast of a formula carrying 35g of actives.
As far as premium pre-workouts go, Live Evolved has crafted a powerhouse; as mentioned, it has about 35g of active ingredients in every serving, and none of that is carbohydrates, which sometimes creep their way into big scoops and offset the total. Unsurprisingly, with that amount of space, the brand has built Catalyzer to support all of your common pre-workout benefits, from intense energy and focus to improved pumps and performance.
Loaded and comprehensive formula
We've got the laundry list of ingredients and dosages in Live Evolved's Catalyzer pre-workout in the facts panel above, and it is clearly not short on highlights. Driving powerhouse pumps and performance, you get 10g of pure citrulline, another sizeable dose of a common pre-workout component in beta-alanine at 6.4g, and two premium pump supporters in Vasodrive-AP at 254mg in a maximum serving and 3g of GlycerPump glycerol.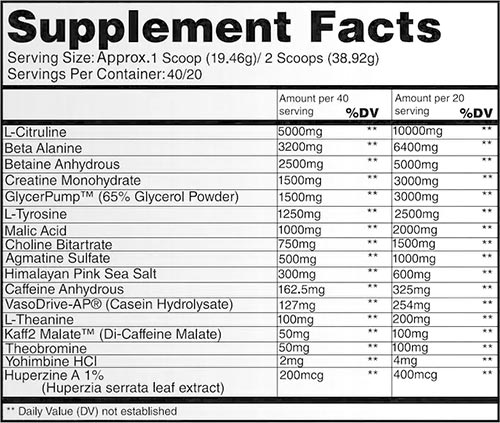 Driving the energy and focus side of Catalyzer are just as many ingredients, including 4mg of yohimbine, a sizeable 2.5g of tyrosine, 1.5g of choline bitartrate, and two sources of caffeine in 325mg of standard caffeine anhydrous and Kaff2 di-caffeine malate combining for a total of 400mg. To further round out Live Evolved's premium pre-workout, there is 3g of tried and true creatine monohydrate to support strength and power, and 600mg of the electrolyte source, pink Himalayan salt, for hydration.
Well-priced premium pre-workout
Live Evolved's Catalyzer is certainly a premium pre-workout, with a list of ingredients and dosages to prove it, although its price is more than reasonable. Where Phasic is $46.95, and the pump-powering Vessel is $44.95, Catalyzer is roughly $10 more at $56.95 for a tub of 20 servings, which is impressive for what you get. The brand has three flavors listed for the pre-workout, in Peach Ring Pump, Lemon Lime Lifts, and Watermelon Candy Curls, although only Peach Ring is available at the moment.