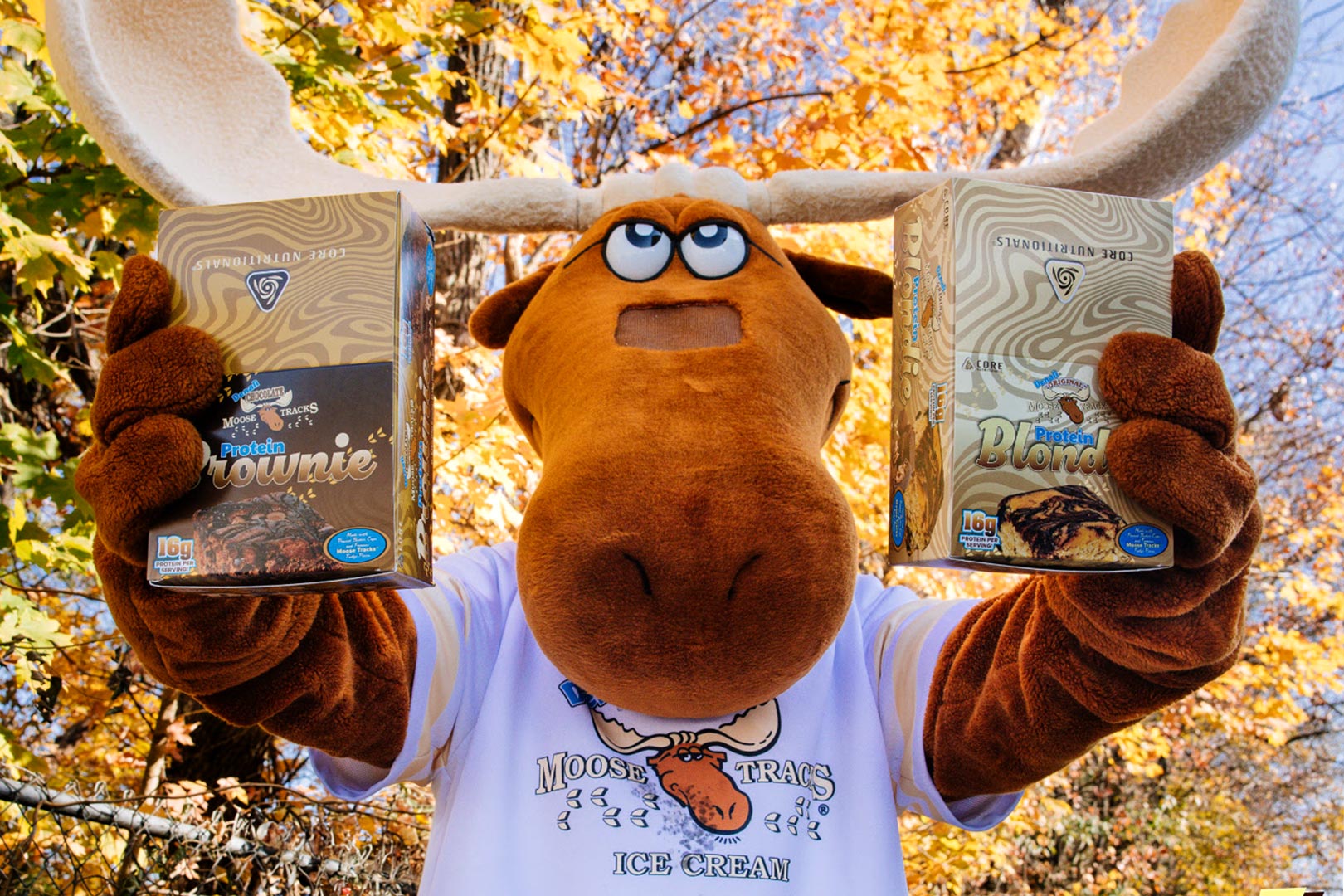 Core Nutritionals has completely unveiled the authentic collaboration snack it's been teasing these past few months, which sees it once again team up with its friends at Moose Tracks for two completely new, special edition functional foods. There is the Core Protein Brownie and Core Protein Blondie, similar to what we saw from GNC's house brand a few months ago in the GNC Total Lean Protein Brownie and Protein Blondie.
The Core Nutritionals protein snacks separate themselves in flavor by their organic formats, with the Core Protein Brownie being more brownie-like, and the Core Protein Blondie is less chocolate, more caramel or butterscotch. Either way you go, the Core Protein Brownie and Blondie are packed full of bits and pieces, with Moose Tracks Peanut Butter Cups and legendary Moose Tracks Fudge, topped with a Moose Tracks Fudge Swirl.
The macros on Core Nutritionals and Moose Tracks' authentic Core Protein Brownie and Core Protein Blondie are about the same as one another, with 16g of protein from whey and multi-benefit collagen, 13g of fat, and 23g of carbohydrates. The authentic side of the products will certainly help differentiate them from the many protein brownie-style competitors out there, although we imagine there will be some familiarity compared to having something in a different style like the Barebells Protein Bar or Outright Protein Bar.
As previously confirmed, Core Nutritionals is officially launching its edible authentic collaboration with Moose Tracks in two weeks on the annual sales event that is Black Friday. That is indeed going down on the 24th of this month, and this is something the brand always goes big on. There is no reason not to expect mammoth savings for 2023, and the Moose Tracks Protein Brownie and Protein Blondie will, of course, be involved.