The promising RYSE CEO Pre-Workout has been completely unveiled a week out from its Black Friday launch, and it is as loaded as expected. The brand has gone all in with the premium ingredients and indeed filled it with 17 total entries on the facts panel, 12 of those branded, for a grand total of 27.9g of actives, making for one of the most loaded pre-workouts out there. The brand has all of the core effects covered, including energy, focus, performance, and plenty of support for better muscle pumps.
The RYSE CEO Pre-Workout certainly falls into the realm of premium pre-workout, similar to some of its other competitors in the saturated category with Pump Daddy, Stim Daddy, and one of our favorites, the Godzilla Pre-Workout. All of these are supplements that come at a higher price compared to the likes of the brand's own Element Pre-Workout, Loaded Pre-Workout, and even the Blackout Pre-Workout to some extent, but in return for that extra spend, you get a more comprehensive formula.
Loaded with 28g of actives
Again, RYSE has not held back in the formula of its CEO Pre-Workout, squeezing plenty of ingredients and reliable dosages into a 32g serving size. The energy segment isn't as intense as we've seen in other pre-workouts from the brand, with a combined 300mg of caffeine, 200mg of that anhydrous, and the rest is ZumXR extended-release caffeine. There are a few other notable energy enhancers in the mix, with the likes of Dynamine at a strong 125mg and a host of focus ingredients, such as CognatiQ, proven Cognizin, Thinkamine vincamine, and 2.5g of tyrosine.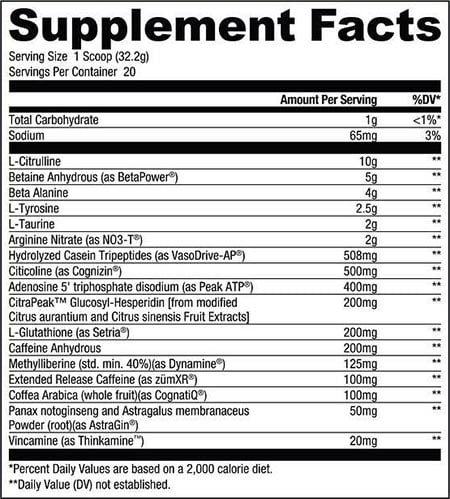 Driving the performance portion of the RYSE CEO Pre-Workout is 4g of beta-alanine, a bit more than the usual 3.2g, and an effective 400mg of PeakATP. The most packed-out effect in the supplement is muscle pumps, with a hefty 10g of pure citrulline, our preferred dose of betaine at 5g, and it's BetaPower branded betaine, 508mg of VasoDrive, 200mg of CitraPeak, 200mg of Setria glutathione, and 2g of NO3-T arginine nitrate. The well-studied AstraGin is also in the mix, like almost every other sports nutrition product, at 50mg to improve absorption and efficacy.
Launching on Black Friday
Based on how many premium ingredients RYSE has squeezed into its RYSE CEO Pre-Workout, we imagine the price on this will be higher than the likes of Godzilla, Pump Daddy, and Stim Daddy, although we don't know that for sure. As mentioned, the powerhouse pre-workout is arriving on Black Friday, an event that last year the brand offered 30% off, so even if it does come at a premium price, the sale will make it a little easier; say, for example, it was $69.99, 30% discount would drop that to $49 each.