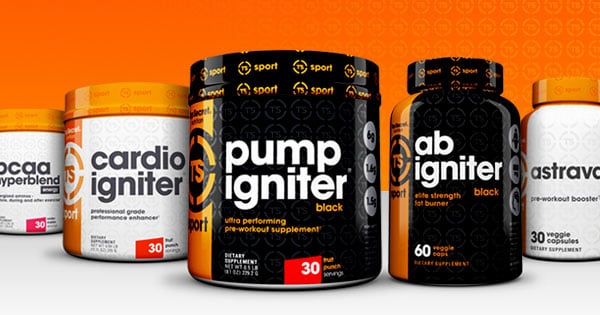 Just two days ago Top Secret Nutrition surprised us with the unveiling of its all new logo. The image is very different from the previous one, dropping its text dominated logo for a more graphic driven design. Top Secret has now followed up its logo reveal with a look at its all new branding, which is in fact a lot more different than expected.
You can get a good look at a handful of Top Secret's rebranded supplements in the image above, with a number of its popular products updated like Pump and Cardio Igniter. It seems that almost nothing from the brand's previous look has been carried over, as it's switched to a much more spacious although still informative layout. While you can't see it above, the rebrand is also a bit more colorful with some of the supplements getting red or green where most have orange.
To complete this week's unveiling of its new logo and rebrand, Top Secret has now also updated its website with all the changes. You can check it out for yourself at the brand's usual address topsecretnutrition.com.