Nubreed Nutrition has confirmed that in a few days time it is going to be giving fans a way to drink its weight loss supplement Tenacity. The brand has put together a new powder version of the product going by the same name, although it does feature a slightly different formula.
The new Nubreed Tenacity powder does still promise the same combination of effects with appetite suppression, accelerated metabolism, and enhanced energy thanks to its TeaCrine theacrine. As mentioned however it does have a different formula, with one ingredient from the original being removed and three new additions thrown in on top.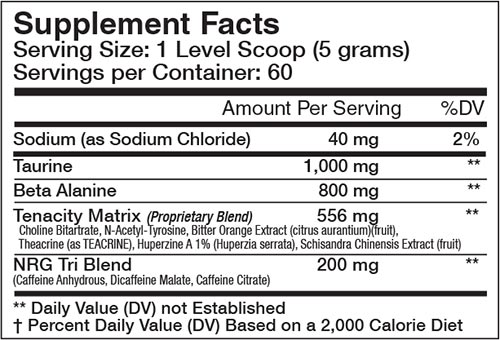 The one feature Nubreed fans won't find in the Tenacity powder is higenamine. Everything else from the capsule version is in there including choline, TeaCrine, and its three forms of caffeine. As for the new ingredients Nubreed has added, the flavored Tenacity also packs huperzine A in one of its two proprietary blends, a gram of taurine, and 800mg of beta-alanine.
Nubreed has already made its new Tenacity powder available for order through its website, although shipping isn't expected to take place until April 17th which is next Monday. In total the brand has four 60 serving flavors to choose from in Island Breeze, Mango, Lemon Drop, and Stars 'N' Stripes.