Super HD Ultimate packed with 400mg of six-hour release caffeine
Jul 17th, 2017
Over the past few weeks Cellucor fans have been introduced to an expansion of the brand's most complete and transparent pre-workout to date, C4 Ultimate. Cellucor has taken that supplement and created an Ultimate Series with P6 Ultimate and the pump formula NO3 Ultimate. The brand has now unveiled a fat burner for the family officially titled Super HD Ultimate.
The ultimate Super HD
The new Cellucor Super HD Ultimate is a lot like the other Ultimate products, being the brand's most powerful individual entry in its category. That does of course mean it sits above Cellucor's other many weight loss formulas including the regular Super HD, Super HD Xtreme, and its more recently released fat burning system Super HD Fire, Razor, and Water.
Super HD Ultimate is, in fact, quite similar to Super HD Fire, featuring a number of the same ingredients. The effects the weight loss supplement promotes are extreme thermogenesis, extended energy and focus, utilization of fat as energy, and of course support for burning fat.
Extended release caffeine
The formula behind Cellucor's new Super HD Ultimate doesn't, unfortunately, incorporate the same level of transparency as C4 or NO3 Ultimate. It's more like the brand's Ultimate Series testosterone booster P6 Ultimate, with a non-transparent mix of ingredients.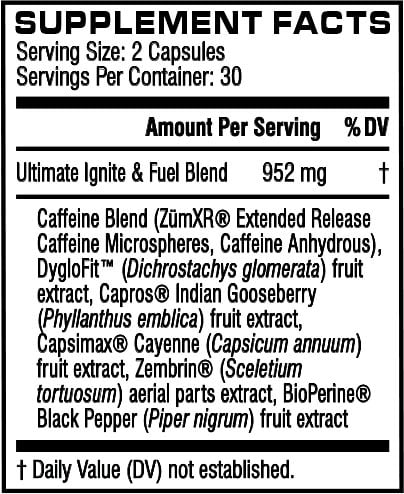 In total Super HD Ultimate's one proprietary blend packs seven different ingredients combining for a weight of 952mg per two capsule serving, with of those four found in Super HD Fire. The features in the fat burner are regular caffeine anhydrous mixed with extended release ZumXR caffeine for energy, DygloFit dichrostachys glomerata, Capros Indian gooseberry. Capsimax cayenne pepper, Zembrin sceletium tortuosum for focus and also found in C4 and P6 Ultimate, and BioPerine black pepper.
While as mentioned, the one blend in Super HD Ultimate is non-transparent, Cellucor has revealed what the combined dose of caffeine is in the product is. The two sources in the formula apparently combine for a heavy 400mg, although due to its use of ZumXR branded caffeine that 400mg is intended to release over a six hour period for long lasting energy and focus.
Super HD Ultimate stacking
Seeing as lot of people do tend to stack weight loss supplements, we figured we'd answer the question of should or can Super HD Ultimate be stacked with other Super HDs? Since the product has a massive 400mg of caffeine per serving, we definitely suggest only stacking it with non-stimulant formulas such as CLK, Super HD Razor, and the Cor Series CLA.
Coming soon to cellucor.com
You can read a little more about the latest and greatest Cellucor fat burner on its website, which is where it will also likely be available first. It's not in stock there just yet, however seeing as it only took a few days for NO3 Ultimate to hit the store, you may not be waiting too long for Super HD Ultimate.