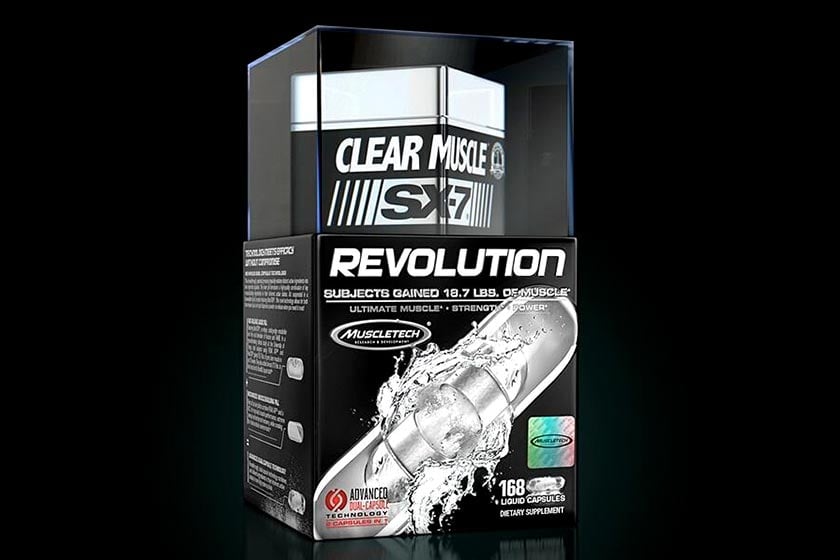 We recently posted a preview of Muscletech's new Clear Muscle spin-off for its SX-7 Revolution Series called Clear Muscle Revolution. Based on the details we got from the first look, we suspected that the supplement would feature a combination of BetaTOR HMB free acid like the original, and Peak ATP.
Today Muscletech has released a much better look at Clear Muscle Revolution, finally revealing its official facts panel. It confirms that we were correct with our guess of the product featuring the muscle builders BetaTOR HMB free acid and Peak ATP, however, there is a little more to it than that.
It turns out on top of the combination of BetaTOR and Peak ATP, which goes by the trademark name BetaATP, Muscletech's Clear Muscle Revolution also includes the recovery ingredient Ca KIC. While newer fans of the brand may not recognize that name, it was a keto-acid used in one of the brand's previous versions of Gakic, from its well-known muscle building trilogy of Gakic, Leukic, and Creakic.
For Clear Muscle Revolution, Muscletech has simply brought together key ingredients from a number of its major muscle building supplements. The product is essentially perfect for anyone that stacks the likes of Clear Muscle, Plasma Muscle, and the SX-7 Pro Clinical Stack. You can already get the new SX-7 Revolution release from GNC, priced at $121.99 for a 42 serving bottle.