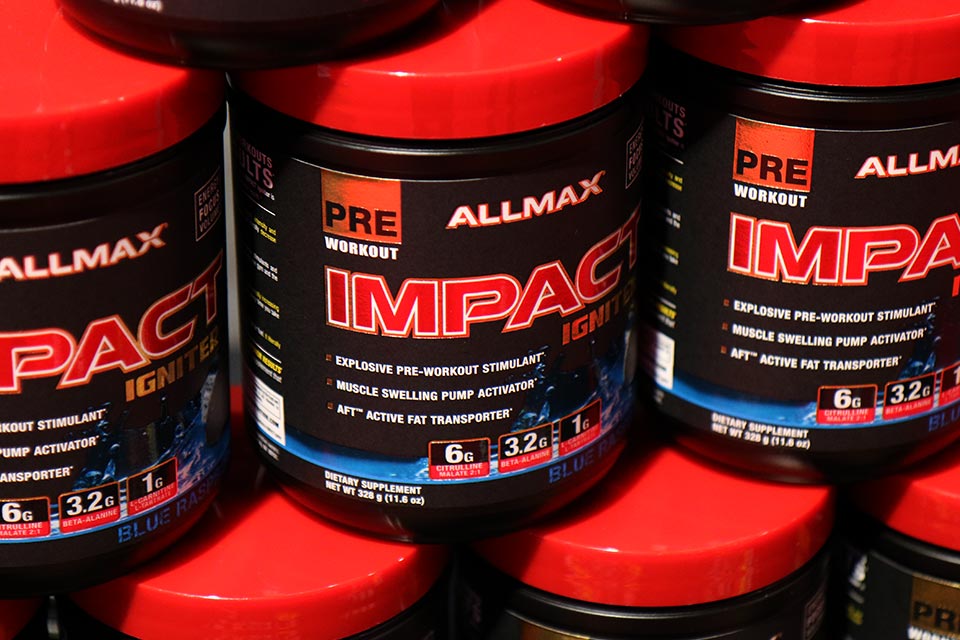 Earlier today we shared images and a few details for AllMax Nutrition's new pre-workout Impact Igniter, unveiled at this weekend's Olympia Expo. We did eventually manage to get a look at its full facts panel, confirming the entire formula behind the energy, focus, and muscle pump enhancing supplement.
There is actually quite the list of ingredients in Impact Igniter, all of which are included for a variety of effects. Taking care of the improved muscle pumps in the product is 6g of citrulline malate at a 2:1 ratio, a gram each of taurine and Agmapure agmatine, and half a gram of n-acetyl l-cysteine.
Next in the Impact Igniter formula is 3.2g of beta-alanine and half a gram of coconut water for increased endurance. For energy and weight loss support the supplement also packs a 220mg blend of higenamine, synephrine, and hordenine, a gram of l-carnitine l-tartrate, and a heavy 400mg caffeine blend.
Rounding out the new AllMax pre-workout are a few other ingredients for improved mental focus and absorption enhancement. That includes 300mg Lionize trademarked lion's mane, 150mg of alpha GPC, and the absorption enhancers 10mg of Cinnulin PF and 5mg of BioPerine black pepper.
According to AllMax Nutrition or at least one of its representatives at the Olympia Expo, Impact Igniter won't be available for another two weeks. It's due to release in the one 40 serving tub size, or 20 servings if you want the full scoop doses mentioned above, and two flavors with Blue Raspberry and Fruit Punch.