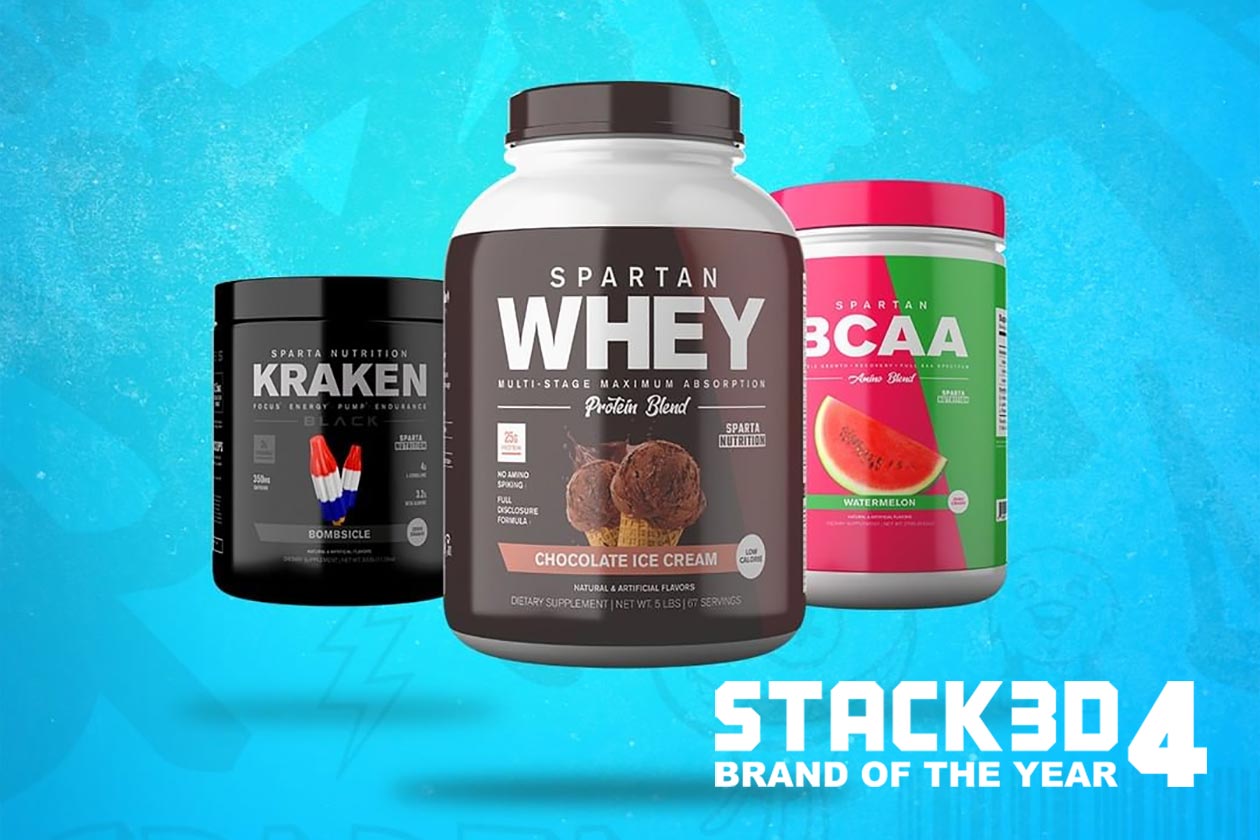 Last year Sparta Nutrition did everything a brand could do, including launch a new series of supplements, update previously released products, and completely rebrand itself. All of those developments made noise here at Stack3d, hence why Sparta has earned the number four spot on our list of top five brands of 2018.
Of all of the things Sparta Nutrition did last year; launch new supplements was what it did more than anything else. Fans were introduced to the stimulant-free fat burner Inferno, the delicious and creatively flavored Spartan Whey, and the seven product Keto Series including our number one focus formula, Cogni Keto.
On top of all of the entirely new supplements mentioned above, Sparta Nutrition also dropped a whole bunch of updated products when it released its major rebrand in the middle of the year. While the reformulations were interesting, Sparta's fresh new look truly stole the show with its drastic visual changes.
With its rebrand, Sparta Nutrition essentially switched its entire look and feel to a very mainstream, colorful, and obviously eye-catching design. Based on the comments we saw, the brand's makeover was received well by the majority of people. The update also came with a more consistent direction on Instagram with well-crafted pictures that made the rebrand look even better.
After Sparta Nutrition's major rebrand around July and August, we didn't really see all that much from the company except for one very exciting product confirmation. At the beginning of last month, Sparta announced that it would be launching its first-ever protein bar that's made with real cereal pieces.
The protein snack simply named Sparta Nutrition Protein Bar, had just enough excitement and hype to ensure the brand finished the year strong. The back half of 2018 was certainly quieter for Sparta Nutrition, however, we did not forget everything it did in that first half of the year along with all of the noise it made and attention it gained.
While we have given Sparta Nutrition the number four spot on our list of top five brands of 2018, it is also one of, if it not the most improved brand of the year. Sparta made so many significant changes that we can't help but applaud it, especially with its rebrand and creation of another hit supplement with the protein powder, Spartan Whey.
For 2019, we don't really know what Sparta Nutrition has in store for everyone except for its delicious looking cereal piece protein bar. Like all supplement company in the industry, we hope the new year brings bigger and better things for Sparta, and look forward to even more excitement from the brand.