With another week comes the complete reveal and release of another product from the exciting new brand Glaxon. This time around, we have the creative supplement company's end-of-day formula in the spotlight with the appropriately named product Sedative, designed to help with rest, relaxation, and recovery.
Glaxon's Sedative is formulated to help bring your energy levels down and relax you into the nighttime to give you deep, restful and unbroken deep sleep. You can grab the supplement now from the brand's website at $44.99 in the one Grape Drank flavor and with 42 servings, or 21 full servings per tub.
The full combination of ingredients behind Glaxon Sedative can be seen in the facts panel above. It includes a number of common sleep ingredients such as GABA dosed at 750mg per full serving, 4mg of melatonin, and 50mg each 5-HTP.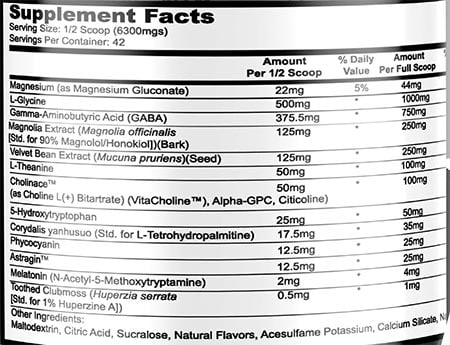 A few other key features in Sedative to help with rest, relaxation, and recovery are 250mg each of magnolia extract and mucuna pruriens, 50mg of 5-HTP, and the Cholinace choline blend. Glaxon has put together another well-rounded formula for this one, which is becoming something of a consistency with the brand.
Once again, you can grab Glaxon's comprehensive end-of-day product now from its website alongside the fast-growing list of other supplements it has available such as the amino Xeno and pre-workout Specimen.