Modern Hardcore Nutrition, the new brand that owns the rights to the reputable pre-workout supplement Arez God Of The Gym, has opened up its online store and is now selling all three of its products. Those products are Modern Hardcore's original all-in-one multivitamin Fierce5, supporting you in five different areas of health; the stimulant-free pump pre-workout Overflow; and of course, the brand's version of Arez.
Overflow
With the opening of Modern Hardcore Nutrition's website, has come the full reveal of all three of its supplements, although we did already confirm what's in Fierce5 back in July. Starting with Overflow, the brand has brought together a fully transparent blend of ingredients, which you can see in detail in the facts panel below, with everything included to help enhance muscle pumps as well as performance and endurance.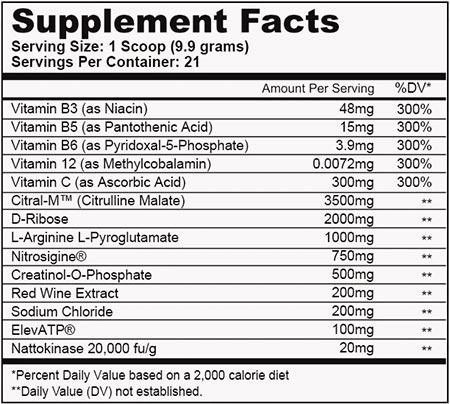 A few of the highlights from Modern Hardcore Nutrition's Overflow formula are 3.5g of citrulline malate, 750mg of Nitrosigine, and 100mg of elevATP to support the performance benefits. Moving on to the brand's more notable pre-workout, the stimulant powered product Arez God Of The Gym, that one also brings together a variety of ingredients; however, unlike Overflow, they're all wrapped up in a non-transparent blend.
Arez God Of The Gym
You can see the facts panel for Modern Hardcore Nutrition's version of Arez God Of The Gym in the image below, with a lot of premium branded ingredients such as Zynamite, the pump blend S7, and Cognizin citicoline. We're not sure about the amount of caffeine the brand has in each serving of the pre-workout, but it comes with three forms in caffeine anhydrous, Infinergy di-caffeine malate, and KaffCitrate caffeine citrate.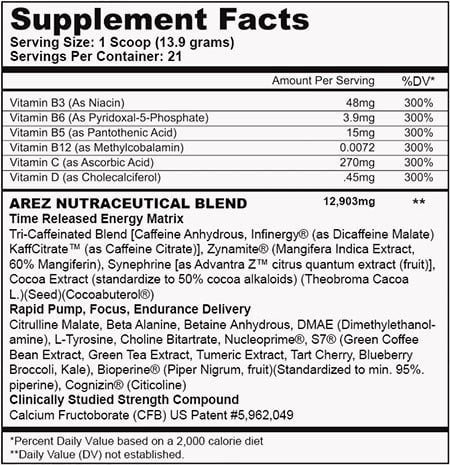 As mentioned, while Overflow and Arez God Of The Gym are both pre-workouts, they are quite different in their performance. While Overflow is primarily designed to enhance muscle pumps, Arez aims for a more balanced experience. The brand has formulated Arez as a more typical pre-workout to increase energy and mental focus, improve performance, and give you better pumps, although not quite as good as Overflow.
Where to buy
You can get a closer look at any of Modern Hardcore Nutrition's three supplements on its website, where you can also purchase any of them. Arez God Of The Gym is the same price as Fierce5 at $44.95 for a tub of 21 servings in Fruit Juiced, Wild Blueberry, and Fresh Strawberry flavors. Overflow is slightly cheaper than that at $42.95 with two tastes to choose from in Red Raspberry and one of the Arez flavors with Wild Blueberry.