Mar 25th, 2021
Near the end of last year, Cellucor confirmed it would be turning its loaded and comprehensive pre-workout C4 Dynasty into a ready-to-drink beverage sometime early this year. The product has now been completely unveiled, introducing C4 Dynasty On-The-Go, and as promised, it features a packed-out list of ingredients similar to the C4 Dynasty powder.
The aim of Cellucor's C4 Dynasty On-The-Go is much the same as the original, formulated with ingredients to increase energy and mental focus, enhance pumps, and improve performance. Not all of the compounds and dosages in the C4 Dynasty powder have made it over to the ready-to-drink version, including, of course, creatine as well as PeakATP, VasoDrive for pumps, and TeaCrine.
You can see the full formula powering Cellucor's C4 Dynasty On-The-Go in the facts panel above, and despite missing those ingredients mentioned, it is still one of, if not the most loaded pre-workout RTD we've seen. It features a combined total of 16g of active ingredients, with plenty of compounds and reliable dosages to deliver its balanced blend of benefits.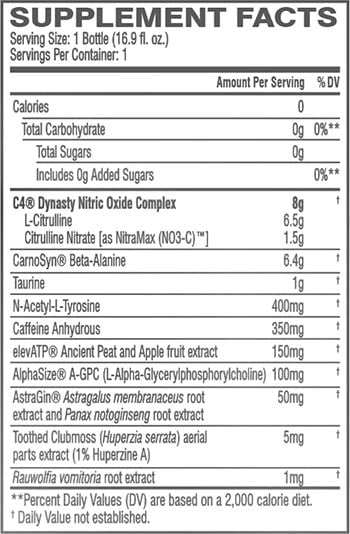 Some of C4 Dynasty On-The-Go's key highlights include a huge 6.4g of CarnoSyn branded beta-alanine, 150mg of the premium elevATP, and 8g of citrulline from 6.5g of pure citrulline and 1.5g of citrulline nitrate. Alpha yohimbine is in there too at 1mg per bottle, AlphaSize alpha-GPC at 100mg to support focus, and a solid 350mg of caffeine for increased energy.
Once again, as far as ready-to-drink pre-workouts go, Cellucor's all-new and soon-to-be-released C4 Dynasty On-The-Go, is one of the most loaded on the market. The product is due to launch soon in three different flavors with Icy Blue Razz, Strawberry Lemonade, and Fruit Punch and will cost $15 more than C4 Ultimate On-The-Go at $49.99 for a case of 12 at c4energy.com.