C4 Dynasty is Cellucor's most loaded pre-workout to date, launching at the beginning of last year and packing some impressive ingredients and dosages. In its 28.4g serving, you get a hefty 10g citrulline blend with 6g of that citrulline malate, 3g pure citrulline, and a gram of NO3-T citrulline nitrate; elevATP and PeakATP to enhance performance; VasoDrive for even more pumps; and a high 6.4g of CarnoSyn beta-alanine.
Cellucor has now brought its most premium pre-workout to Australia and New Zealand, although not surprisingly, with the regulations in the region, the product has undergone a lot of changes. It still has many of its key ingredients with a few missing as well, and the serving format has changed; whereas the original had 20 full servings per tub, this version has 30 regular servings or 15 if you want the complete experience.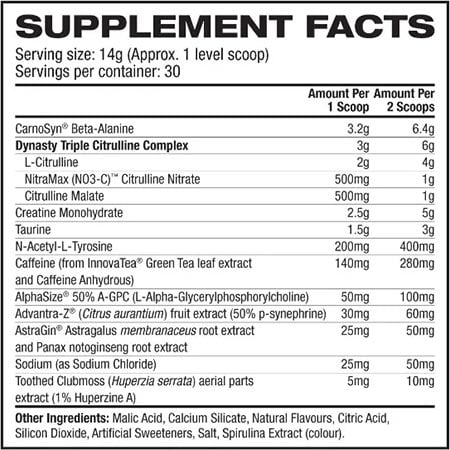 You can see the facts panel for Cellucor's Australia and New Zealand C4 Dynasty in the image below, carrying over that sizeable 6.4g of CarnoSyn beta-alanine. It also has the citrulline blend at a slightly different balance of 4g of pure citrulline and a gram each of citrulline malate and NO3-T citrulline nitrate, and instead of a 5g blend of three creatines, the brand has 5g of the one tried and true source, creatine monohydrate.
Cellucor's C4 Dynasty in Australia and New Zealand is still relatively its most well-rounded and comprehensive pre-workout, and despite the fewer full servings, the price converted is much lower than the original. A tub of the US C4 Dynasty launched at $69.99, although right now in New Zealand, you can get the alternative version at $69.95 in their local currency, which works out to $49.44 USD with three flavors available.