The Loaded Protein Cookie Bar from Fit Crunch is a promising new protein snack packing a solid 22 to 23g of protein in its two sweet-filled flavors; Peanut Butter Blast and Chocolate Deluxe. The product has a typical doughy protein bar body with peanuts, chocolate chips, marshmallows, and delicious candy pieces throughout, and chocolate drizzled across the top.
While the protein in Fit Crunch's Loaded Cookie Bar is high at 22 to 23g of protein, the rest of its macros aren't all that lean. Alongside the protein is 35g of carbohydrates with 9 to 14g of that sugar, 13 to 14g of fat, and 330 to 340 calories. With all of the extra bits and pieces in the product, the argument was, does the taste make up for the calories, a question we can answer after purchasing and trying the Peanut Butter Blast flavor.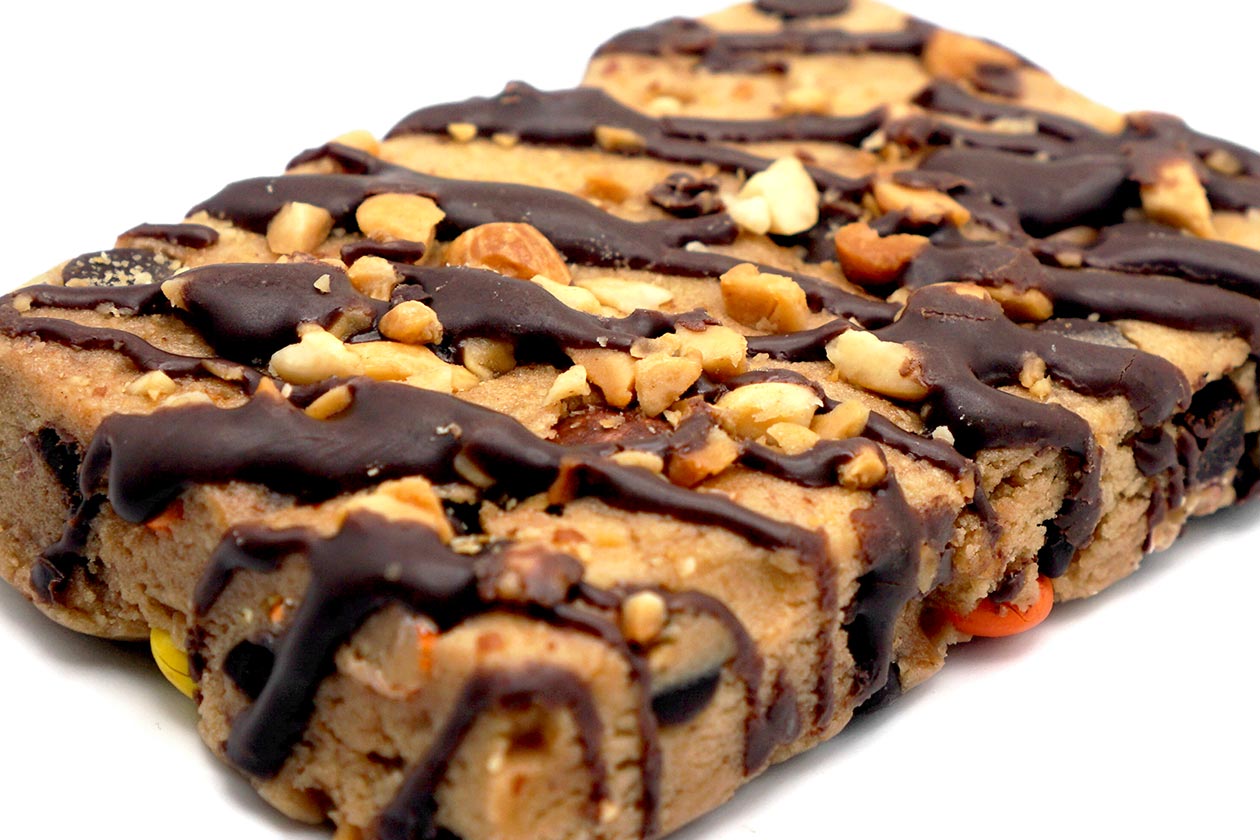 Review
The main body of the Loaded Protein Cookie Bar from Fit Crunch is much like we expected with that typical chewy and doughy protein bar body, which in the Peanut Butter Blast flavor does have a peanut taste to it. Throughout and around the bar is where you get all of those seductive extras, including crunchy peanuts, smooth peanut butter, chocolate chips, colorful candy pieces, and a chocolate drizzle.
While we had extremely high hopes in Fit Crunch's Loaded Cookie Bar with all of those extra bits and pieces, unfortunately, they don't add a lot to the experience. The chocolate drizzle does cover the entire bar, but it doesn't hit you with the chocolaty taste we thought. The colorful candy pieces are a bit different and do bring some sweetness when you run into them.
The Loaded Cookie Bar's main body seems to be the letdown as it is very dense and doughy and doesn't let you take in the full effect of those tasty inclusions. When eating the product naturally, bite by bite, it's hard to get a good amount of the chocolate chips, peanuts, or even the candy pieces without a lot of the bar's thick body, which overshadows everything else in flavor and it keeps you busy chewing.
Summary
Fit Crunch's Loaded Protein Cookie Bar isn't bad; it's just a bit off from what we were expecting. As mentioned, with all of those delicious bits and pieces, we thought we were getting a protein-packed candy bar. Instead, the chips, nuts, and candies have trouble standing out over the density of the bar, leaving you with more of a traditional protein bar experience that has some candy bar-like sweetness when you hit clusters of inclusions.