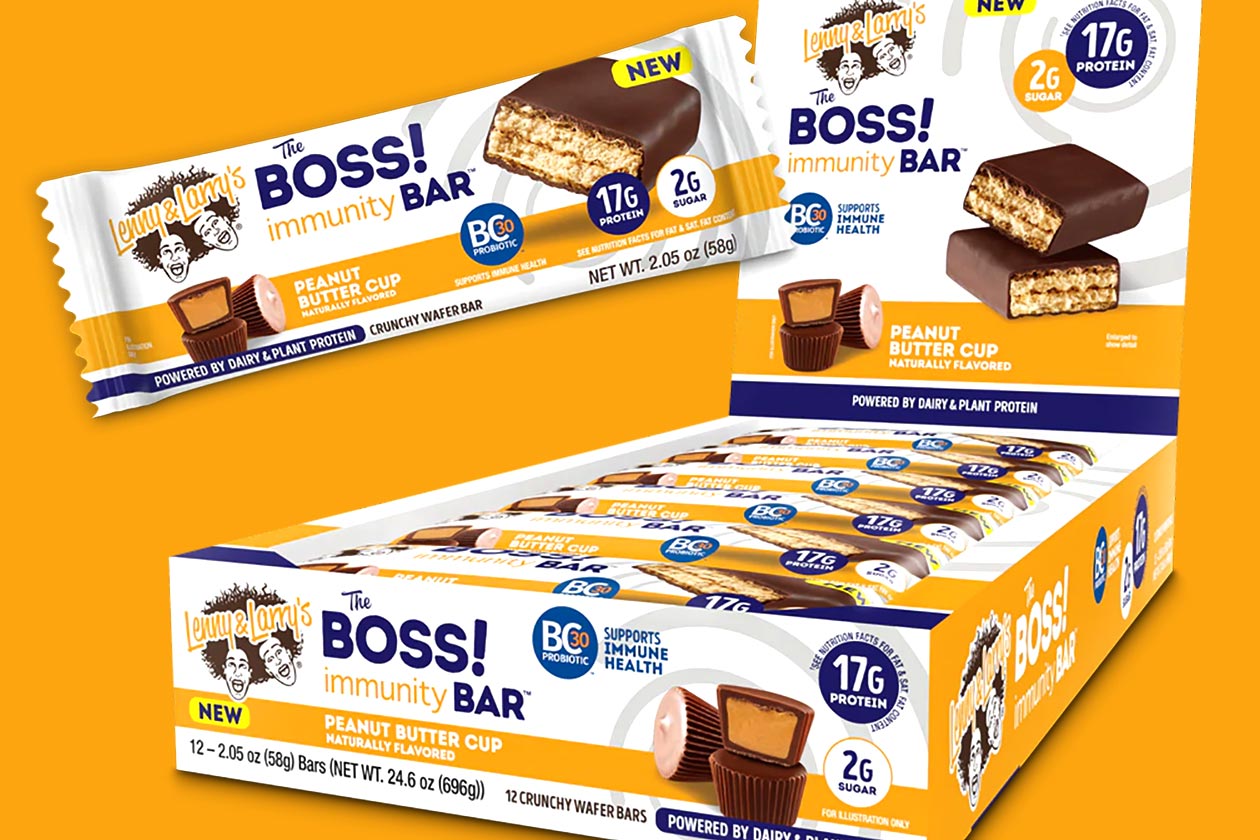 Lenny and Larry's recently came out with its Complete Kickstart Breakfast Bar, a quick and convenient oat-based bar to start your day strong. The product had a bit of a functional twist to it, where it combined its nutritious wholefood ingredients with the premium BC30 probiotic blend to improve gut health. Lenny and Larry's has another new snack out this week, and this one sees the brand go functional again.
Lenny and Larry's has taken the name of its leaner protein-packed cookie, Boss Cookie, and expanded into the more traditional bar format with the Boss Immunity Bar. Like the original Boss Cookie, the Boss Immunity Bar packs a good amount of protein at 17g, alongside 16 to 17g of carbohydrates with 4 to 5g of that fiber and 2g sugar, and 20 to 21g of fat, giving you a fairly high-calorie count for 17g of protein at 300.
For the build of the Boss Immunity Bar, Lenny and Larry's has taken a light and crispy wafer approach, where inside you get three crunchy wafer layers, in between those is creamy flavor, then it's all covered in milk or white chocolate. Most of the wafer protein bars we've had end up being too dry or chalky, although there are some that do it well, and the macros aren't supremely lean, so this could certainly be one of the good ones.
As mentioned, there is a functional side to Lenny and Larry's Boss Immunity Bar, as, like the recently released Complete Kickstart Breakfast Bar, it is infused with premium BC30 probiotics to improve gut health. It is the probiotics that give the product its name, as it is primarily known for its gut health effects but supporting and strengthening your immune system is another benefit promoted for the premium probiotic blend.
The Boss Immunity Bar is already available for purchase straight from Lenny and Larry's online store at $24.99 for a box of 12 of the high-protein, crispy wafer, immune-supporting bars. The functional brand has also not cut the menu short, launching the probiotic-infused snack in four flavors, all packing that same 17g of protein with Caramel Macchiato, Chocolate Mint Brownie, Peanut Butter Cup, and Maple French Toast.