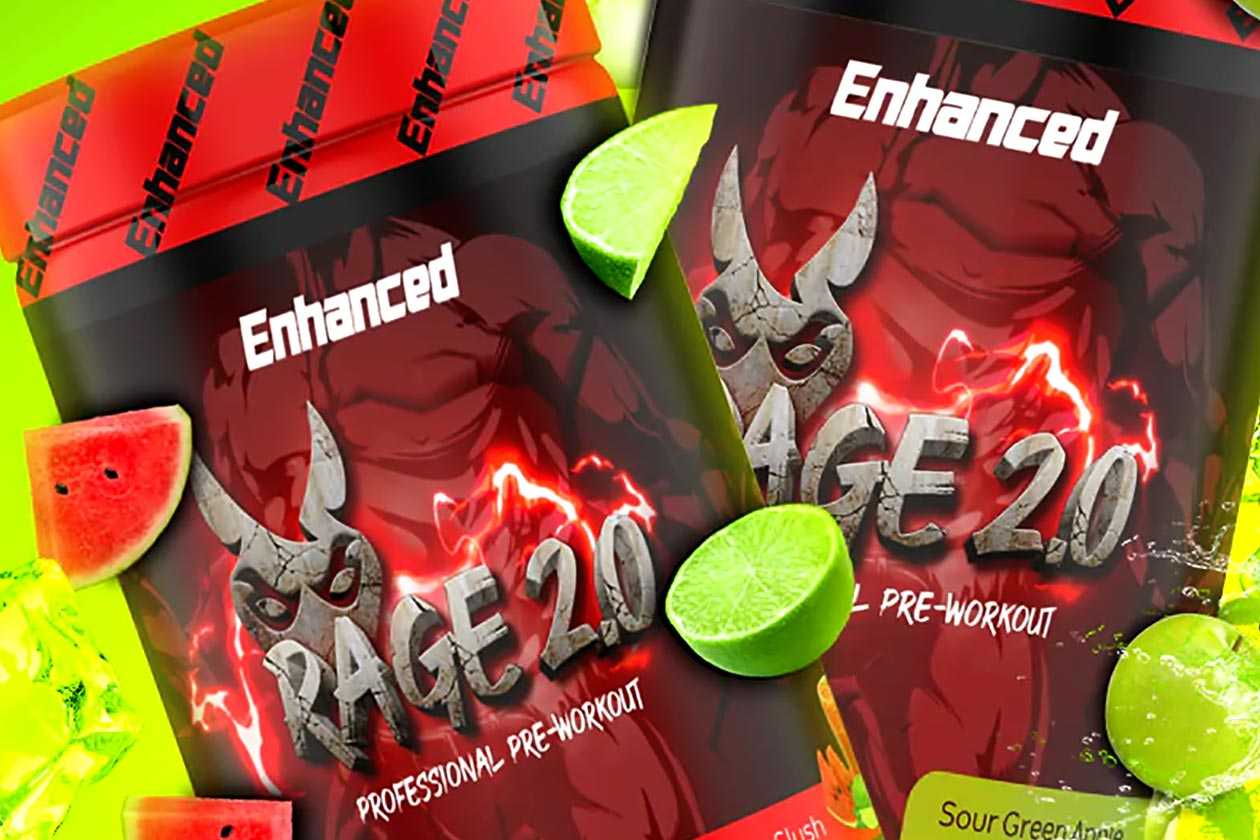 Enhanced Labs has joined the group of popular sports nutrition brands dropping a new pre-workout to close out the year, with its latest seemingly being the sequel to Rage Stim Reloaded, which is no longer on the brand's website. Rage 2.0 is Enhanced's newest entry into the competitive category, although it's not as drastic of a difference from old to new as we like to see.
Enhanced Labs' Rage 2.0 pre-workout has many of the same ingredients as Rage Stim Reloaded, with key components that are no longer in the supplement, as well as new additions that weren't in Stim Reloaded. We've got the facts panel for the product in the image below, featuring a reasonably comprehensive formula with ingredients for energy, focus, pumps, and performance.
Rage 2.0 carries over many compounds from Rage Stim Reloaded, such as taurine, caffeine, TeaCrine at a much lower 62.5mg instead of 100mg, the same 200mg of theanine, and citrulline in the form of citrulline malate and at a lighter dose of 5g versus Stim Reloaded's 7g of pure citrulline. While a lot has remained for Rage 2.0, Enhanced Labs has added and taken out plenty of ingredients.
The potent alpha yohimbine, Dynamine, and DMAE are not in Rage 2.0, but again, Enhanced Labs has some new entries with the likes of juniper, half a gram of tyrosine for focus, huperzine, and 100mg of the premium pump ingredient CitraPeak. Again, there isn't a giant leap forward from Rage Stim Reloaded to Rage 2.0, as we usually see in sequels. There are some notable differences in the formula, but we could see this performing very similarly and with slightly less of a kick due to the loss of Dynamine and yohimbine.
Enhanced Labs' Rage 2.0 pre-workout is available straight from its online store, and there are a couple of other critical changes compared to Rage Stim Reloaded. Rage 2.0's predecessor hit the market at $49.99, while this one is $34.99 which is cheaper but not as cost-effective as you don't get as many servings at 20, with two flavors in Sour Green Apple and Watermelon Lime Slush.