The pre-workout specialist Ekkovision has been incredibly impressive this year, revealing and releasing several new supplements and keeping fans and followers clued in during the entire process. More recently, the still extremely young brand has been diving into categories outside of pre-workout with the likes of the nootropic Illuminate, and shortly it looks like Ekkovision will be adding a sleep aid.
The brand, known for its premium, packed-out, and extensive selection of pre-workouts, has shared the formula for a sleep support supplement it is currently testing and likely to put into production. You can see the combination of ingredients powering the product in the image below, notably not including the ever-reliable melatonin, which is something the brand specifically did not want to rely on.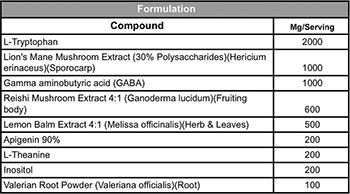 In typical Ekkovision style, its unnamed sleep supplement comes with commonly used ingredients but not at the over-the-top dosages we are used to seeing from it. The formula comes with 200mg each of theanine, inositol, and apigenin, a gram each of GABA and the nootropic mushroom lion's mane, 2g of tryptophan, 600mg of reishi, half a gram of lemon balm, and 100mg of valerian root.
Interestingly, the seemingly upcoming sleep-supporting product doesn't have any premium, branded ingredients, as Ekkovision uses in most of its other supplements, but it's still a reasonably robust formula. Again, growing brand is currently only testing the nighttime supplement, and if all goes well, which by the sounds of things Ekkovision is confident will be the case, it'll be put into production.