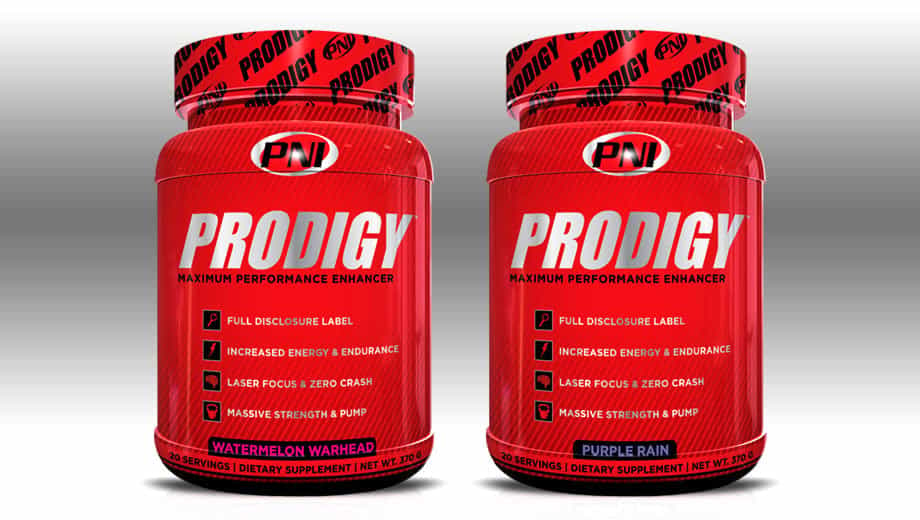 Just as we confirmed last week, PNI has revealed and released for pre-order, the final version of its reformulated pre-workout Prodigy at our Stack3d Pro Expo. Quite a few changes have been made compared to the beta formula that was sent out to fans, which included us. Most of the edits are removals of ingredients, although there are a few dose increases in the mix as well.
Starting with the ingredients PNI has removed for its new Prodigy, the supplement no longer features vitamin C, creatine monohydrate, or CarnoSyn beta-alanine. As for the switched or increased ingredients Prodigy now has 6g of citrulline malate (2:1) instead of 3g of l-citrulline, twice as much betaine at 3g. A gram of agmatine instead of half a gram of AgmaPure agmatine, and lastly PNI has changed from 150mg of 2-amino-6-methylheptane to the exact same dose of Ampidrex branded 2-amino-5-methylheptane.
While PNI has altered a fair bit of the formula, we still imagine it's going to be a top contender. If you missed our post a few weeks back, we actually confirmed that based on our experience with the beta tub of Prodigy the product is guaranteed a spot on our list of top 10 pre-workouts. As mentioned however a lot of the supplement has been changed, although we are of course going to be trying the final version before we post our official review and possibly rank Prodigy.
If you'd like to get your hands on the new Prodigy, just as PNI promised it has made the product available for pre-order exclusively through the Stack3d Pro. You can find a link to the supplement on the brand's expo page, where you'll also see a couple of coupon codes. Both of the codes "STACK3D" and "STACK3DPRO" will get you free shipping, however "STACK3D" is the one to use for Prodigy as it will get you 20% off its pre-order price of $49.99. The other code is for 50% discount, although that one applies to everything except PNI's Prodigy.
PNI Prodigy (2016 final version)