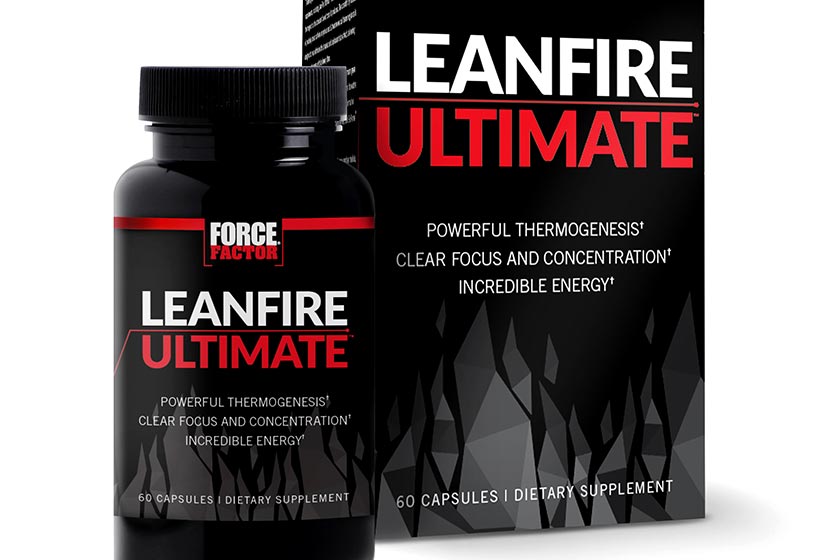 Over the past couple of weeks, we've seen a lot of new supplements from the guys over at Force Factor. That list has included the protein powder Whey30 and the performance and endurance pre-workout Fuego. The excitement continues this week with details on another new Force Factor product called LeanFire Ultimate.
Hardcore LeanFire
For those unfamiliar with Force Factor's line, LeanFire is half of the name of one of its weight loss competitors, LeanFire XT. LeanFire Ultimate is as you'd expect, a spin-off of that supplement, which according to the brand is a hardcore version. The fat burner's list of effects includes increased energy, enhanced focus and concentration, and support for actual weight loss.
Fully transparent formula
The formula behind LeanFire Ultimate is where things get a little more interesting, mostly because the supplement comes with full transparency, unlike LeanFire XT. Ultimate is made up of two blends of ingredients; the first is the Thermovigilance complex with 400mg of Verilean branded green coffee bean, 250mg each of caffeine and theanine, 50mg of CapsiMax, and 5mg of the absorption enhancer, BioPerine black pepper.
The second blend in LeanFire Ultimate is the lengthy titled Adaptogenic Cognitive Enhancement System. Making up this one is 300mg of rhodiola, 50mg each of Cocoabuterol cocoa extract and TeaCrine theacrine, and 3mg of rauwolfia. The new Force Factor fat burner definitely looks like it'll be more intense than the current LeanFire XT, especially since it has 66% more caffeine per serving.
Launching in August
Just like the other new, previously previewed Force Factor products, LeanFire Ultimate is due to release sometime next month. It will be exclusive to the major retailer GNC and is expected to cost $79.99 for a full size 30 serving bottle, which is only a bit more expensive than LeanFire XT.