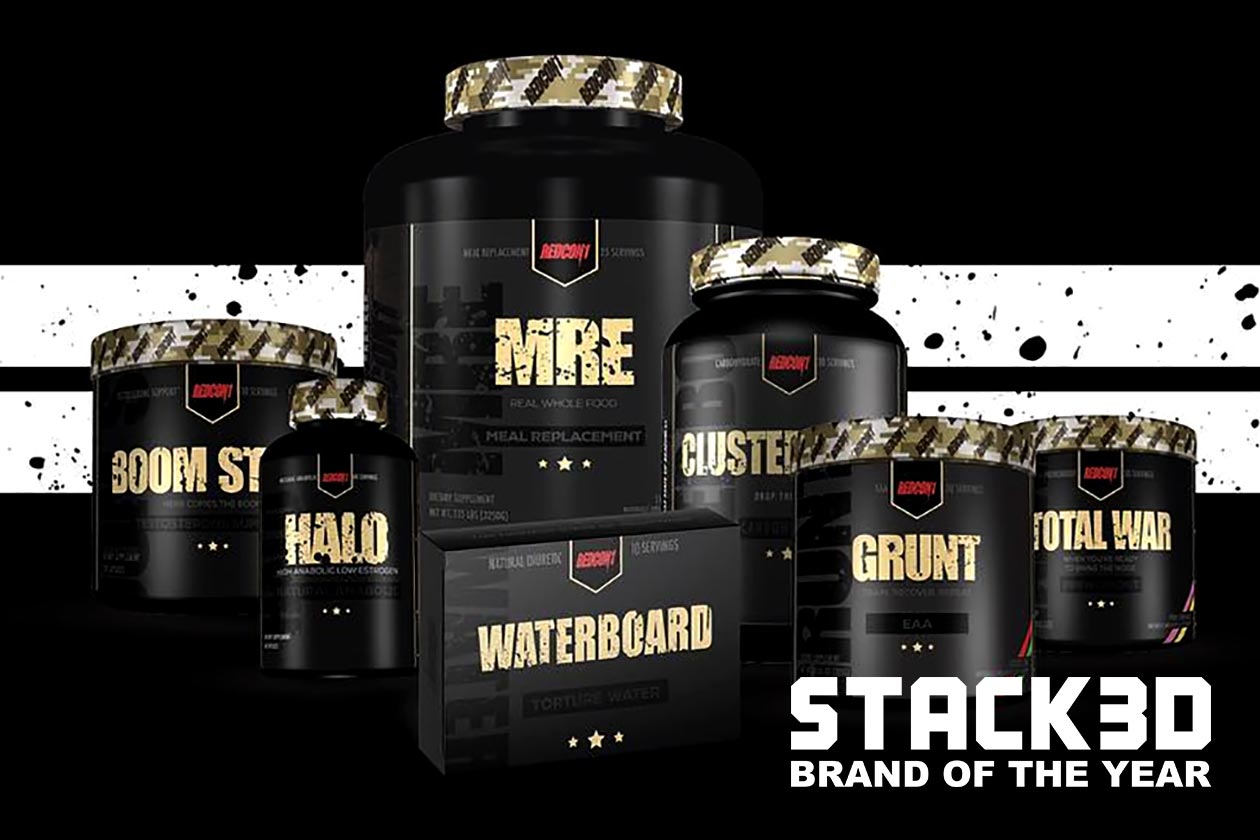 Our brand of the year for 2018 is none other than Redcon1, with its latest win making it the first company to take home our annual award twice. The brand had an incredible year back in 2017, and while we didn't think it was possible, it stepped up its game once again for 2018.
When you look back at everything Redcon1 did over the past 12 months you can't help but be impressed. The growing supplement company delivered a mountain of new releases including some impressive and effective products, plenty more flavor options, and some exciting developments.
When it came to entirely new supplements for 2018, Redcon1 almost did enough to count as one for every month. The brand introduced its EAA formula Grunt, the muscle builder MOAB, Waterboard, GI Juice, an on-the-go Total War RTD, the joint product Foxtrot, and a more internationally friendly Total War.
Also released during the year were the MRE spin-offs, the unique multi-source protein MRE Lite, and the truly game-changing MRE Bar. The latter was easily Redcon1's biggest launch of the year as it is one of the most unique bars on the market based on its ingredients and incredibly easy-to-eat consistency.
Alongside all of the entirely new products Redcon1 dropped, it also gave fans a huge amount of additional options by way of new flavors. The original MRE and Isotope got two more flavors each, the blend protein Ration was released in Vanilla, and the 2018 product MRE Lite also got two new additions.
A few other variants Redcon1 dropped in the year were German Chocolate Cake, Sprinkled Donut, Carrot Cake, and Peanut Butter Cup for the MRE Bar, a bigger size of the EAA formula Grunt, and a massive amount of Total War flavors. One of those Total War flavors was actually suggested by a fan who also got his name put on the tub.
While Redcon1's product releases were already enough to make for an incredible year, the brand did do a number of other things to impress us. It signed four high profile athletes including the bodybuilder Antoine Vaillant and strong man Brian Shaw, and is expanded into a lot of new countries as well as new locations in the US.
It was really a crazy year for Redcon1 so much so that when you see everything it did in those 12 months on paper, it doesn't sound at all believable. It dropped nine all-new supplements, more than double that in flavors, a bunch of apparel, great promotions, international expansion, and not to mention its huge cash prize transformation challenges.
Redcon1 made sure it kept fans excited right from the start to the finish of 2018. It never had a dull moment as if there wasn't something new and exciting that just released; we had confirmation that something was coming soon. Moving into 2019, Redcon1 is setting itself up to have another unstoppable year with plenty of exciting developments already announced and no doubt plenty more that we don't know about.