Legacy brand Animal has already gone through many changes this year with a complete rebrand and the introduction of several entirely new products, including Animal TNT, Animal Alpha F, and the tasty Animal Beef Biltong. The hardcore sports nutrition company known for its original hit multivitamin Animal Pak, has dropped two more supplements to close out the first half of 2022, both of which are creatine-based.
Animal Creatine XL
Animal has released Animal Creatine XL and Animal Creatine Chews. Animal Creatine XL is a flavored muscle-building supplement featuring a full 5g of tried and true creatine monohydrate to support strength and size. Alongside creatine, the brand has thrown in 2.5g of betaine, 50mg of the premium performance-enhancer Senactiv, and 100mg of PurpleForce purple tea, all to further the muscle-building support.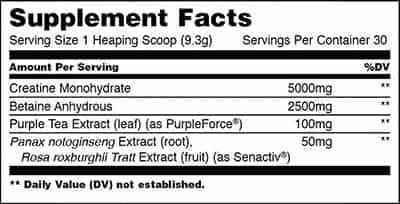 Animal Creatine Chews
Animal Creatine Chews is a little simpler than Animal Creatine XL, but the key difference is this comes in chewable tablet format, as opposed to the more traditional flavored powder. Creatine Chews still has that same creatine base of 5g of creatine monohydrate to enhance muscle strength and size in a four-tablet serving, plus 25mg of the premium and proven absorption enhancer AstraGin and 4g of carbohydrates.
Animal has been around for several years, several decades actually, but it's never had a creatine-based supplement in its lineup. Animal Creatine XL and Animal Creatine Chews are a great addition to the well-established and reliable brand, and follow that theme we saw in its other recent releases by expanding Animal's variety and reach.
Where to buy
The more advanced muscle-building supplement Animal Creatine XL is $37.95 for a tub of 30 servings in Fruit Punch and Watermelon flavors, while Animal Creatine Chews is $35.49 for a tub of 30 servings in Fruit Punch and Orange flavors. The brand is also running a sale at animalpak.com to go with 4th Of July, where you can get the pre-workout Animal Primal for half price when buying either creatine product.