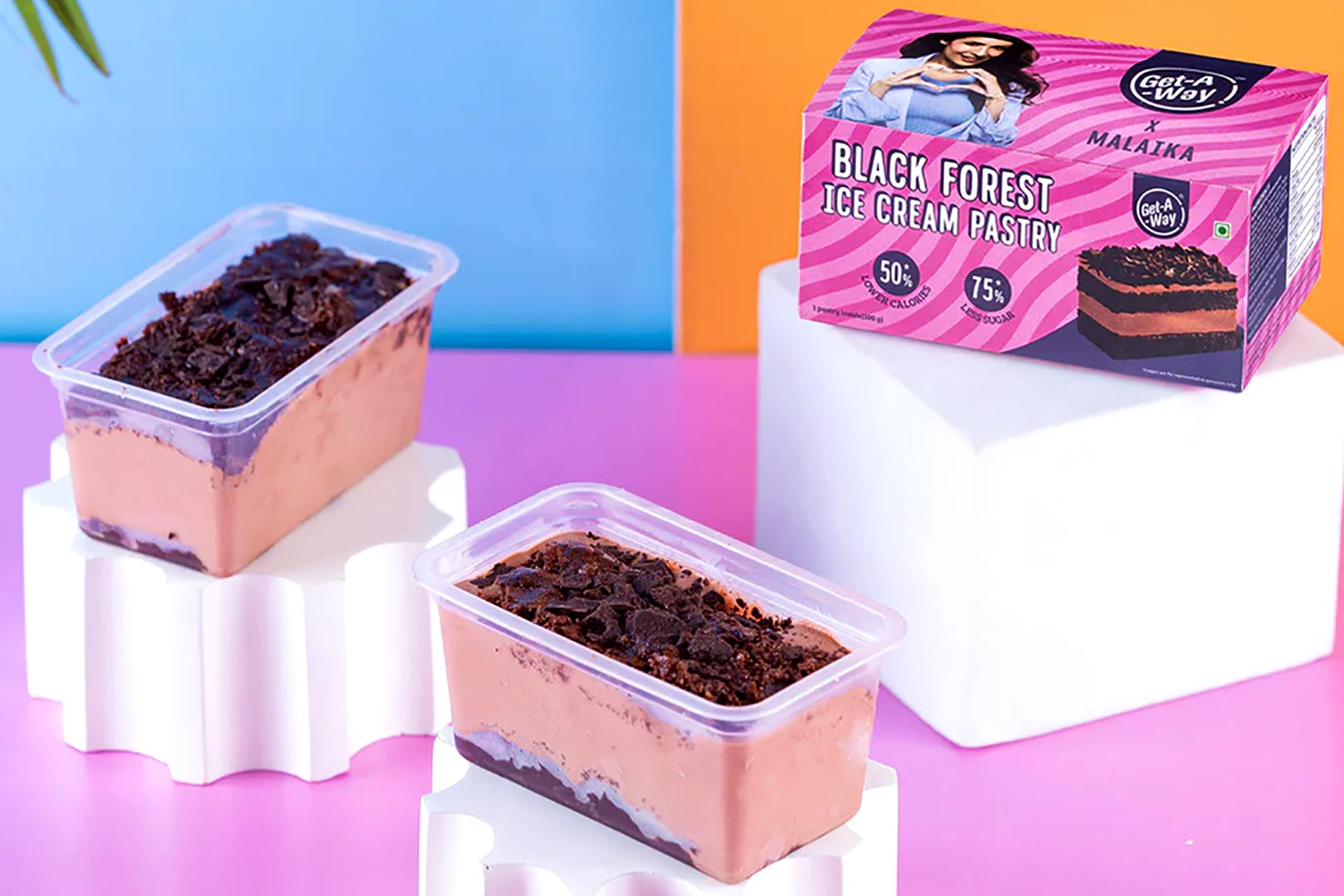 Get-A-Way in India has proven it is far more than your standard, one-product, frozen functional food company, pumping out many different high-protein and better-for-you treats beyond traditional tubs of ice cream. The creative brand has put together nut butter gelato, low-calorie ice pops, slices of delicious low-calorie cheesecake, protein-packed ice cream sandwiches, and it just opened its first Dessert Parlour.
Get-A-Way continues to grow its selection of delicious frozen foods with another incredibly unique and functional creation that we don't recall ever seeing from any other competitor anywhere in the world. The brand has introduced Black Forest Ice Cream Pastry, a small, rectangular black forest ice cream cake combining rich chocolate ice cream with layers of decadent chocolate cake and chocolate flakes blanketing the top.
Being the brand that it is, Get-A-Way's Black Forest Ice Cream Pastry does more than enough on the nutrition side to make this a guilt-free treat that will undoubtedly taste like it's loaded with sugar and calories. The product is rather heavy at 100g; however, even at that size, the macros are extremely impressive with 5g of fat, 3.2g of protein, 18g of carbohydrates with 6g of that sugar, and believe it or not, only 136 calories.
Get-A-Way has also put together its Black Forest Ice Cream Pastry in partnership with the actress, dancer, and model Malaika Arora, who is featured on the box of the better-for-you dessert. You can already order the mouthwatering, chocolate-heavy treat straight from the brand's online store, and it's incredibly cost-effective. Over at getawaydesserts.com, you'll pay only ₹160 a cake, which works out to just under $2 USD at $1.94.