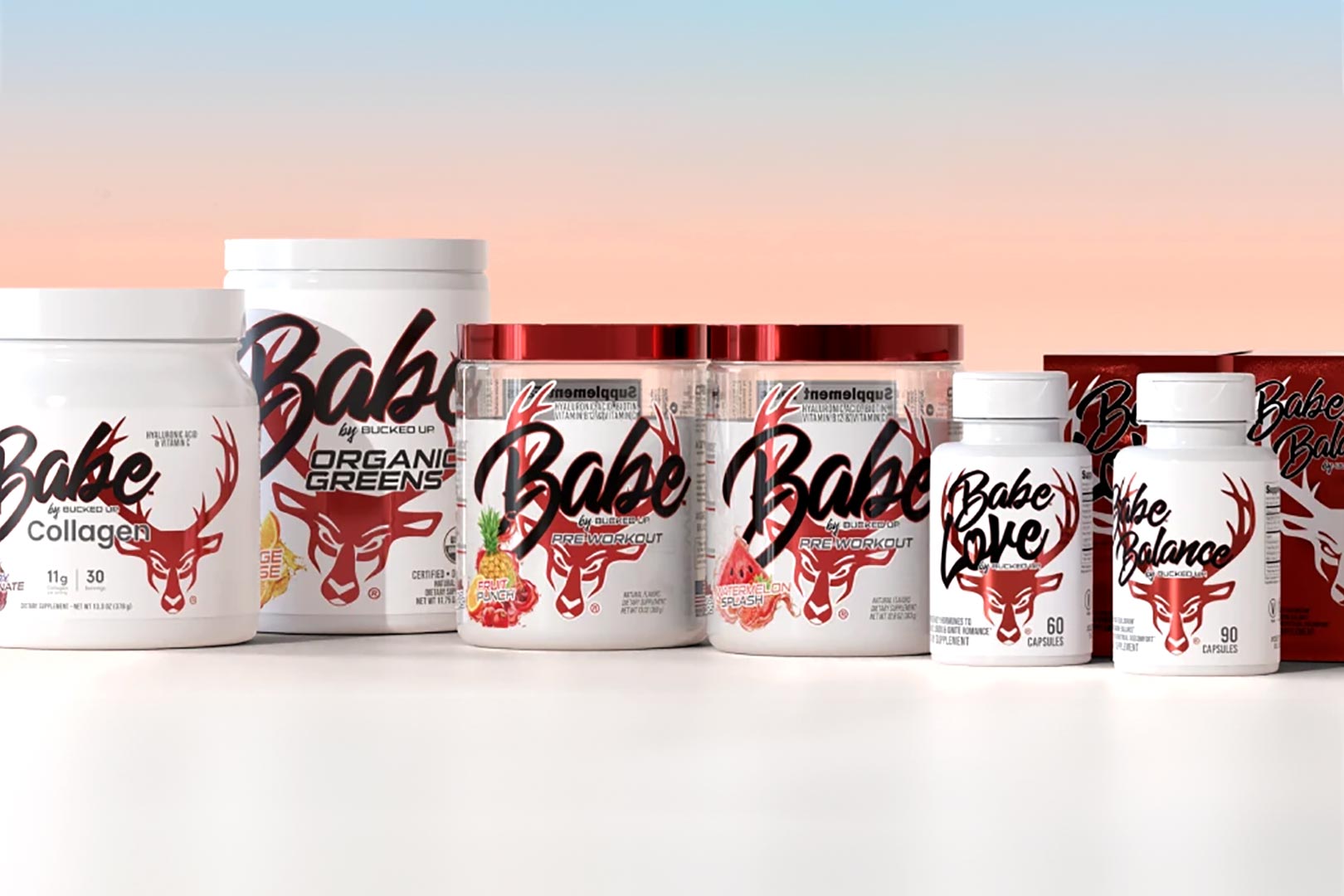 Bucked Up has been piling on the launches this year and bringing plenty of hype, excitement, and attention to its line, and rightfully so, with attention-grabbing drops like the unique Pixie Pump and the packed-out premium pre-workout Mother Bucker. As we move through the last quarter of the year, Bucked Up is not slowing down, not by a long shot, and has come out with a whole new sub-brand, introducing Bucked Up Babe.
Bucked Up Babe, or Babe by Bucked Up, is a line of products specifically marketed towards women, and it is not one or two items; it is a strong selection of six separate supplements, some completely new, some similar to already available products, and some slightly different versions. The lineup includes Babe Collagen, a standalone collagen and hyaluronic formula featuring the same as Bucked Up's unflavored Collagen Peptides.
Babe Love, Balance and Boost
Another familiar supplement in the Babe by Bucked Up collection is Babe Organic Greens, which has all of the same superfood ingredients as the brand's Mixed Greens. The completely new creations are Babe Love, Babe Balance, and Babe Boost. Love is a libido and sexual performance product with the likes of tribulus, longjack, and 500mg of ashwagandha; Balance, is a hormone health and mood formula with DIM, inositol, chaste berry, and ashwagandha, but at a smaller amount of 50mg; and Boost is a fat burner fueled by caffeine and proven InnoSlim.
Babe Pre-Workout with Enfinity
The final entry in the Bucked Up Babe family is the self-titled Babe by Bucked Up Pre-Workout, and this is an interesting one. It is essentially an alternative version of the original Bucked Up pre-workout with some notable changes. Everything is identical from Bucked Up to Babe Pre-Workout except deer antler velvet has been replaced by beauty-supporting hyaluronic acid, and instead of 200mg caffeine, there is 100mg of the smooth, energizing, innovative caffeine-alternative Enfinity paraxanthine.
Where to buy
As mentioned, Bucked Up Babe is an extensive collection of supplements, and it is interesting to see that it makes use of Enfinity paraxanthine, as this is the first time it's been in a sports nutrition brand outside of MuscleTech's massive debut of the ingredient in EuphoriQ and Burn iQ. You can check out all of the products in the line on the brand's website, all at appropriate prices, with the Babe Pre-Workout the same as the Bucked Up pre-workout at $49.95 and Babe Greens matching Organic Greens at $39.95.