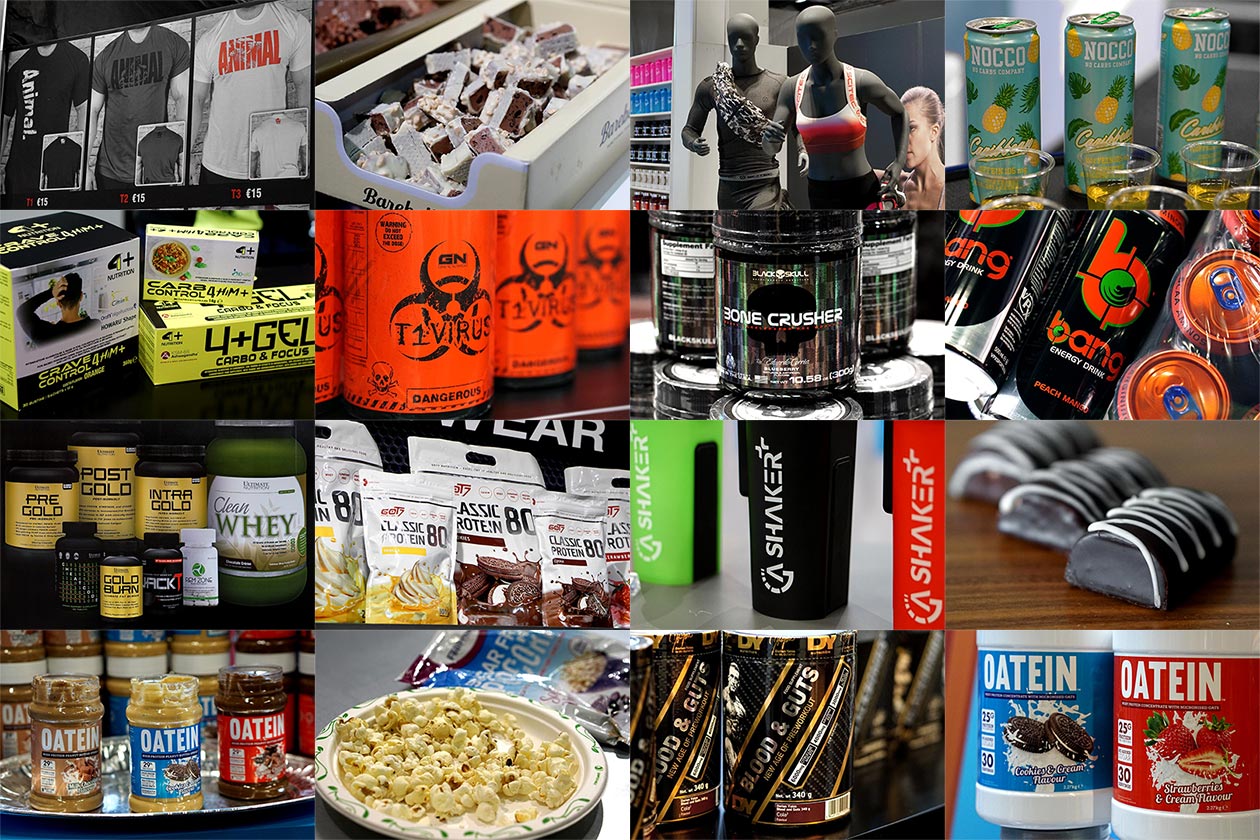 This past weekend, the 2018 FIBO Expo went down in Cologne, Germany, and once again, it was an exciting and busy event. We saw a lot of interesting new supplements and products from a variety of brands and were introduced to a number of companies we hadn't met before.
As you'd expected, the most excitement came from the entirely new supplements that were debuted at FIBO. That included almost ten new items from 4+ Nutrition, the launch of a European version of Bang energy, a major rebrand from DY Nutrition, and pre-workout that is set to rearrange our list of top five pre-workouts.
We've collected the headlines and links of all of our live coverage posts from this year's FIBO and listed them below. They are organized alphabetically by brand name, starting with 4+ Nutrition and finishing with VPX Sports.
4+ Nutrition brings its 5th 4Plus Team supplement to FIBO
4+ Nutrition unveils two new men's products and an on-the-go gel
4+ Nutrition also brings four new women's supplements to FIBO
FIBO visitors get seven pieces of limited edition Animal clothing
Barebells delivers another great bar with White Chocolate Almond
Black Skull hits FIBO with a very interesting version of Bone Crusher
Dedicated possibly working on the next evolution of Unstoppable
Massively revamped Dorian Yates supplements unveiled at FIBO
Blood & Guts pre-workout packs a variety of ingredients for a variety of effects
Sugar Free and Whey Protein Popcorn from Feel Free Nutrition
GA Shaker+ combines a gym card slot and magnet attachments
GN Labs packs a bit of everything into its new T1 Virus pre-workout
Got7 introduces its lean blend formula Classic Protein 80 at FIBO
NOCCO relaunches its limited Caribbean flavor to a different audience
Oatein gets back into oat based products with its first ever protein powder
Oatein debuts a protein infused peanut butter in three flavors
Optimum Nutrition's Whipped Bites are a lot softer than its Cake Bites
Scitec Nutrition unveils its very different Sportswear Collection
Ultimate Nutrition FIBO booth featuring Gold Burn and Cheatcode
European Bang energy drink debuts at FIBO without creatine and coQ10